Mercedes-Benz GLK-Class: Fuel filler flap
The fuel filler flap is unlocked or locked automatically when you open or close the vehicle with the SmartKey or using KEYLESSGO.
The position of the fuel filler cap is displayed in the instrument cluster
. The arrow next to the filling pump indicates the side of the vehicle.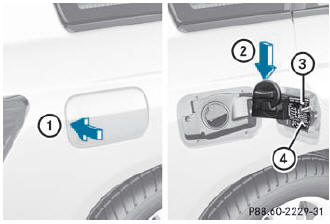 To open the fuel filler flap
To insert the fuel filler cap
Tire pressure table
Fuel type