Mercedes-Benz GLK-Class: Ashtray in the front-compartment center console

You can remove the ashtray insert and use the resulting compartment for stowage.

The stowage space under the ashtray is not heat resistant. Before placing lit cigarettes in the ashtray, make sure that the ashtray is properly engaged. Otherwise, the stowage space could be damaged.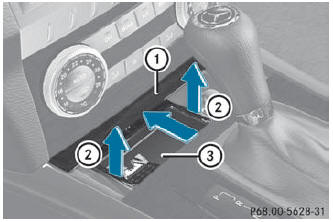 To open: slide cover 1 forwards until it engages.
To remove insert: hold insert 3 by the ribbing at the sides and lift it up 2 and out.
To re-install the insert: press insert 3 into the holder until it engages.
To close: press cover 1 briefly at the front. The cover moves back.