GMC Terrain: Fog Lamps
To replace one of these bulbs: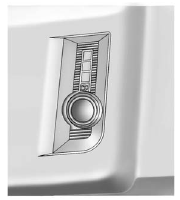 1. Locate the fog lamp assembly under the front facia.
2. Disconnect the bulb socket from the electrical connector, turn, and pull out the bulb assembly.
3. Remove the old bulb from the bulb socket and push the new bulb straight into the bulb socket until it connects.
4. Push the bulb socket into the fog lamp assembly and turn clockwise to lock it into place.
5. Reconnect the bulb socket to the electrical connector.