Hyundai Tucson: Steering wheel tilt lever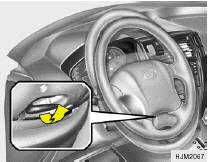 To Adjust the Steering Wheel:
1. Push the lever downward to unlock. 2. Raise or lower the steering wheel to the desired position. 3. After adjustment, securely tighten the lever by pulling it upward.
WARNING: Do not attempt to adjust the steering wheel while driving as this may result in loss of control of the vehicle which may cause serious injury or death.