Ford Escape: Returning the second row seats to upright position
1. Pull seatback up and into upright position making sure seatback locks into place and the red seat unlatched indicator on release paddle is not visible.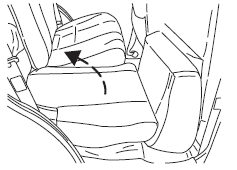 2. Rotate seat cushion down into the seating position making sure that the seat cushion is locked into place and that the safety belt buckles are exposed.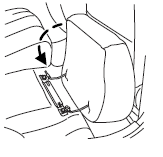 WARNING: Make sure safety belt buckle heads are through elastic holders on seat backs. Safety belt buckles may break if they are trapped underneath the seatback as the seatback is rotated down.

WARNING: Before returning the seatback to its original position, make sure that cargo or any objects are not trapped behind the seatback. After returning the seatback to its original position, reinstall the head restraints, and pull on the seatback to ensure that it has fully latched. An unlatched seat may become dangerous in the event of a sudden stop or collision.
3. Unsnap the safety belt webbing from the quarter trim panel.
4. Remove the second row head restraint from underneath the front seat and reinstall. See Second row adjustable head restraints in this chapter.