Hyundai Tucson: Remote fuel-filter lid release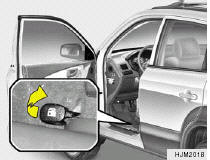 The fuel-filler lid may be opened from inside the vehicle by pulling up on the fuel-filler lid opener located on the front floor area on the left side of the vehicle.
NOTE: If the fuel-filler lid will not open because ice has formed around it, tap lightly or push on the lid to break the ice and release the lid. Do not pry on the lid. If necessary, spray around the lid with an approved de-icer fluid (do not use radiator anti-freeze) or move the vehicle to a warm place and allow the ice to melt.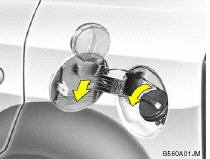 WARNING: o Gasoline vapors are dangerous. Before refueling, always stop the engine and never smoke or allow sparks and open flames near the filler area. o Never operate your vehicle without a filler cap properly installed, flammable vapors and gasoline could leak out in dangerous situations such as a collision or rollover. If the filler cap must be replaced, only use genuine Hyundai replacement parts. o After refueling, make sure the fuel cap is installed securely to prevent fuel spillage in the event of an accident. o Tighten the cap until it clicks, otherwise the "

" light will illuminate. o If you open the fuel filler cap during high ambient temperatures, a slight "pressure sound" may be heard. This is normal and not a cause for concern. Whenever you open the fuel filler cap, turn it slowly. o Do not "top-off" after the nozzle automatically shuts off when refueling. o Automotive fuels are flammable/explosive materials. When refueling, please note the following guidelines carefully. - Before touching the fuel nozzle or fuel filler cap, have one's hands in contact with metal parts away from the filler neck to discharge static electricity. - Do not get back in the vehicle while refueling. Do not operate anything that can produce static electricity. Static electricity discharge can ignite fuel vapors resulting in explosion. - When using a portable fuel container be sure to place the container on the ground while refueling. Static electricity discharge from the container can ignite fuel vapors causing a fire. While starting refueling contact should be maintained until the filling is complete. - Do not use cellular phones around a gas station. The electric current or electronic interference from cellular phones can ignite fuel vapors causing a fire. - When refueling always shut the engine off. Sparks by electrical equipment of the engine can ignite fuel vapors causing a fire. After refueling, check to make sure the fuel filler cap is securely closed, and then start the engine. - Do not smoke or try to light cigarettes around a gas station. Automotive fuels are flammable.