GMC Terrain: Dolly Towing (Front-Wheel&- Drive Vehicles)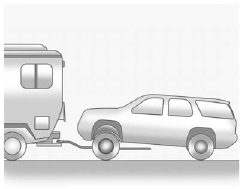 To tow the vehicle from the front with the rear wheels on the ground, do the following:
1. Put the front wheels on a dolly.
2. Move the shift lever to P (Park)..
3. Set the parking brake..
4. Secure the vehicle to the dolly..
5. Follow the dolly manufacturer's. instructions for preparing the vehicle and dolly for towing..
6. Release the parking brake.