Hyundai Tucson: Tire rotation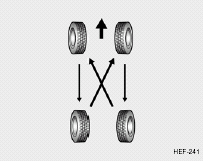 Tires should be rotated every 7,500 miles (12,000 km). If you notice that tires are wearing unevenly between rotations, have the car checked by a Hyundai dealer so the cause may be corrected. After rotating, adjust the tire pressures and be sure to check wheel nut torque.
CAUTION: Do not mix bias-ply and radial-ply under any circumstances. This may cause dangerous handling characteristics.