Toyota RAV4: Stowing the luggage cover (if equipped)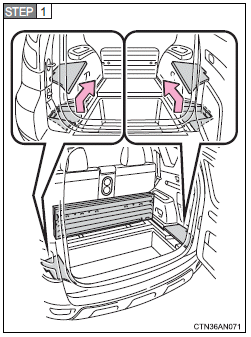 Open the rear deck board and remove the deck side cover.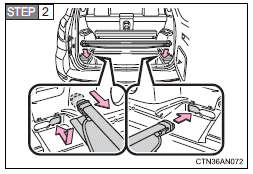 Insert the right end of the luggage cover into the recess, then compress the left end of the luggage cover and insert it into the recess.
CAUTION
■When the cargo hooks are not in use
To avoid injury, always return the cargo hooks to their stowed positions.
■Caution while driving
●Do not drive with any of the deck boards opened. Items may fall out and cause injury.
●Do not place anything on the luggage cover to avoid death or serious injury.
■When installing/stowing the luggage cover
Make sure that the luggage cover is securely installed/stowed. Failure to do so may result in serious injury in the event of sudden braking or a collision.
NOTICE
■To prevent damage to the grocery bag hooks
Do not hang heavy loads on the hooks.