Ford Escape: Removing the spare tire or spare tire and tether (if equipped)
1. Insert the lug wrench through the access hole in the rear bumper.
2. Turn the handle counterclockwise and lower the spare tire until it can be slid rearward and the cable is slack.
3. Slide the retainer through the center of the wheel.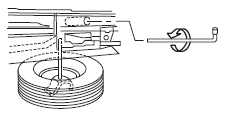 If equipped with a tether, perform the following additional steps:
4. Lift the spare tire on end to access tether attachment (1).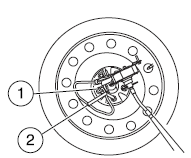 5. Use the lug wrench to remove the lug nut from the spare tire tether.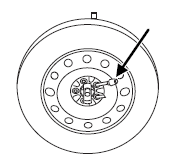 6. If not replacing the spare or flat tire to the underbody storage area, raise winch up into the installed position.
7. Use the attached fastener strap (2) to tie the tether end to the winch actuator shaft (if equipped).