Toyota RAV4: Folding second seats
Folding down the second seats will enlarge the luggage compartment.
■ Before folding the second seats
1 Stow the second center seat belt.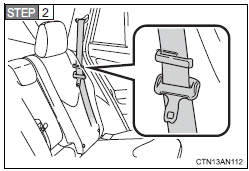 Make sure the outside seat belt passes through the hanger when folding the second seat. This prevents the shoulder belt from being damaged.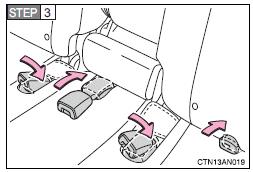 Stow the second seat belt buckles.
4 Remove the outside head restraint
5 Lower the center head restraint to the lowest position.
6 Raise the armrest until it locks.
■ Folding second seats
1 Slide the second seats as far back as possible
From inside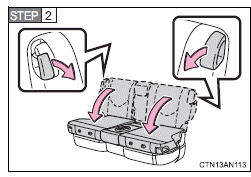 Pull down the seatback angle adjustment lever and fold down the seatback.
From outside (vehicles without third seats)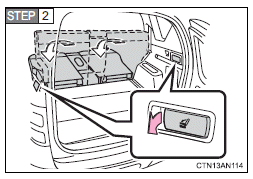 Open the back door and pull the lock release lever to fold down the second seat.