GMC Terrain: Exterior Lamp Controls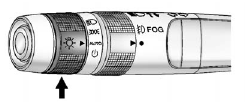 The exterior lamp control is on the turn signal/lane change lever.

(Exterior Lamp Control): Operates the exterior lamps. Turn to one of the following positions:

(Off): Briefly turn to this position to turn the automatic light control off or on again.
AUTO (Automatic Headlamps): Turns the exterior lamps on and off automatically depending on the exterior light. The vehicle will default to the AUTO setting when it is first started.

(Parking Lamps): Turns on the parking lamps together with the following:
○ Sidemarker Lamps
○ Taillamps
○ License Plate Lamps
○ Instrument Panel Lights

(Headlamps): Turns on the headlamps, together with the previously listed lamps and lights.