Hyundai Tucson: Electronic stability control (ESC) system
(If installed)
WARNING: Never drive too fast for the road conditions or too quickly when cornering. Electronic stability control (ESC) will not prevent accidents. Excessive speed in turns, abrupt maneuvers and hydroplaning on wet surfaces can still result in serious accidents. Only a safe and attentive driver can prevent accidents by avoiding maneuvers that cause the vehicle to lose traction. Even with ESC installed, always follow all the normal precautions for driving - including driving at safe speeds for the conditions.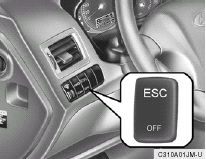 The Electronic Stability Control (ESC) system is designed to stabilize the vehicle during cornering manuevers. ESC checks where you are steering and where the vehicle is actually going. ESC applies the brakes at individual wheels and intervenes in the engine management system to stabilize the vehicle. The Electronic Stability Control (ESC) system is an electronic system designed to help the driver maintain vehicle control under adverse conditions. It is not a substitute for safe driving practices. Factors including speed, road conditions and driver steering input can all affect whether ESC will be effective in preventing a loss of control. It is still your responsibility to drive and corner at reasonable speeds and to leave a sufficient margin of safety.
CAUTION: Driving with varying tire or wheel size may cause the ESC system to malfunction. When replacing tires, make sure they are the same size as your original tires.
ESC ON/OFF Mode
When the ESC is operating, the ESC indicator in the instrument cluster will blink. If you turn the system off by pressing the ESC switch, the ESC-OFF indicator will come on and stay on. In the ESC-OFF mode, the stability control will be deactivated. Adjust your driving accordingly. To turn the system back on, press the switch again. The ESC-OFF indicator should go off.
NOTE: The ESC mode will automatically be turned ON after the engine is turned off and restarted.
Indicators and Warning
The indicators should illuminate when the ignition key is turned to ON or START but should go out after three seconds. If the indicators do not illuminate, or the ESC or ESC-OFF indicator does not go out after 3 seconds, have the vehicle checked by an authorized dealer. Should there be any unusual conditions in the device while driving, ESC-OFF indicator illuminates as a warning. If ESC-OFF indicator illuminates, pull your car to a safe place and stop the engine. Then, start the engine again to check if the ESCOFF indicator goes out. If the indicator remains lit even after the engine has been started, have your car checked by an authorized Hyundai dealer.