GMC Terrain: DIC Buttons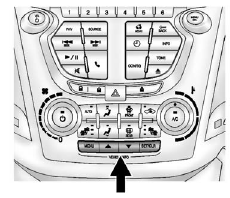 MENU: Press this button to get to the Trip/Fuel Menu and the Vehicle Information Menu.

: Use these buttons to scroll through the items in each menu. A small marker will move along the page as you scroll through the items. This shows where each page is in the menu.
SET/CLR (Set/Clear): Use this button to set or clear the menu item when it is displayed.