Ford Escape: Compass zone adjustment
1. Determine which magnetic zone you are in for your geographic location by referring to the zone map.
2. Turn ignition to the on position.
3. Start the engine.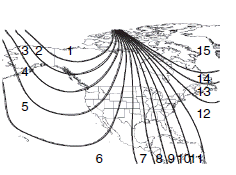 4. Press the SETUP control to select the Update Zone function and display the current ZONE XX in the center stack display.

5. Continue to press the RESET control until the correct zone appears in the center stack display.

6. The direction will display after the RESET control is released. The zone is now updated.