Ford Escape: Childproof door locks
When these locks are set, the rear doors cannot be opened from the inside. The rear doors can be opened from the outside when the childproof door locks are set, but the doors are unlocked.
The childproof locks are located on the rear edge of each rear door and must be set separately for each door.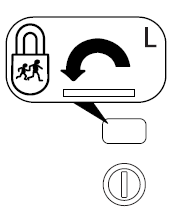 Note: Setting the lock for one door will not automatically set the lock for both doors so you must set each child lock on each door separately.
Insert the key and turn in the direction of arrow shown on the door to engage the child proof lock. Turn in the opposite direction to disengage childproof locks.