Ford Escape: Center console
Your vehicle is equipped with a variety of console features. These include:
1. Cupholders
2. Utility compartment console lid has a CD holder, a business card holder and two pen holders. The utility compartment has a removable bin with coin holder slots, a sliding tray, a cell phone holder and CD holders.
3. Rear power point
4. Rear cupholders
5. Small storage trays and (if equipped) an ambient light control switch.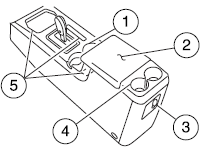 WARNING: Use only soft cups in the cupholders. Hard objects can injure you in a collision.
The tray and inside bin can be removed to open up space to fit a laptop computer, MP3 players, CDs or handbags. To remove, open the console lid and pull the bin straight up and out from the console housing.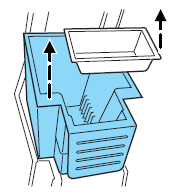 The sliding tray and inside bin can be hooked on the side or rear of the console for extra storage.