GMC Terrain: Automatic Headlamp System
When it is dark enough outside, the headlamps come on automatically.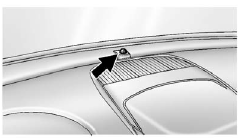 Do not cover the light sensor on top of the instrument panel or the headlamps will come on when they are not needed.
The system may also turn on the headlamps when driving through a parking garage or tunnel.