Honda CR-V: Beverage Holders
Be careful when you are using the beverage holders. A spilled liquid that is very hot can scald you or your passengers. Liquid can also spill from the door pocket beverage holders when you open or close the doors. Use only resealable containers in the door pockets.
Spilled liquids can damage the upholstery, carpeting, and electrical components in the interior.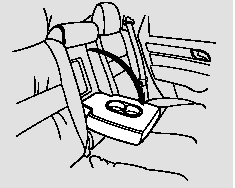 On vehicles with rear seat armrest
The rear seat also has a beverage holder in the center armrest. To use it, pivot the armrest down.