Honda CR-V: Lower Glove Box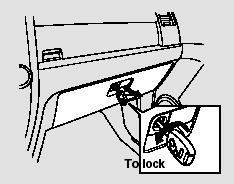 Open the lower glove box by pulling the bottom of the handle. Close it with a firm push. Lock or unlock the glove box with the master key.
The glove box light comes on when the parking lights are on.

An open glove box can cause serious injury to your passenger in a crash, even if the passenger is wearing the seat belt.
Always keep the glove box closed while driving.