Honda CR-V: Windshield Wiper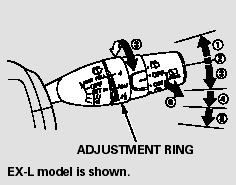 1. MIST
2. OFF
3. INT Intermittent
4. LO Low speed
5. HI High speed
6. Windshield washers
Push the right lever up or down to select a position.
MIST - The wipers run at high speed until you release the lever.
OFF - The wipers are not activated.
INT - The wipers operate every few seconds. At low speed and high speed, the wipers run continuously.
On all models except LX
Vary the delay by turning the adjustment ring. If you turn it to the shortest delay (

position), the wipers change to low speed operation when the vehicle speed exceeds 12 mph (20 km/h).
The length of the wiper interval is varied automatically according to the vehicle's speed.
LO - The wipers run at low speed.
HI - The wipers run at high speed.