Range Rover Evoque: Settings
To view the settings menu, press the SETTINGS button (2). When Park Assist is specified, the icon is changed and the button will turn Park Assist on and off. The Settings menu is then accessed via the touch screen Each of the audio/video menu screens will display a Settings softkey.
To adjust the audio settings: - Touch the + or - soft keys to adjust Bass, Treble or Subwoofer levels.
- If surround sound is fitted, touch DPLIIx, DTS Neo:6, Meridian, Meridian Trifield Surround Sound or select Off to switch surround sound off.
To adjust balance and fade: - From the Audio Settings menu, select Balance/Fade.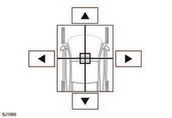 - Touch the arrows to move the sound focal point to the desired area of the vehicle.
Alternatively, drag the focal point cross hairs to a new position.