Mercedes-Benz GLK-Class: Removing and installing rear head restraints

WARNING
Occupants should only travel sitting on seats which have the head restraints installed. In the event of an accident, this reduces the risk of injury for passengers seated in the rear compartment.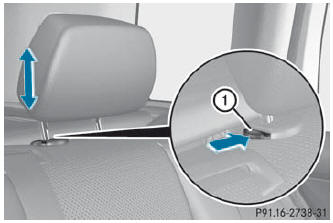 To remove: pull the head restraint up to the stop.
Press release catch 1 and pull the head restraint out of the guides.
To re-install: insert the head restraint so that the notches on the bar are on the left when viewed in the direction of travel.
Push the head restraint down until you hear it engage in position.