Nissan Rogue: Hood

- Make sure the hood is completely closed and latched before driving.
Failure to do so could cause the hood to fly open and result in an accident.
- If you see steam or smoke coming from the engine compartment, to avoid injury do not open the hood.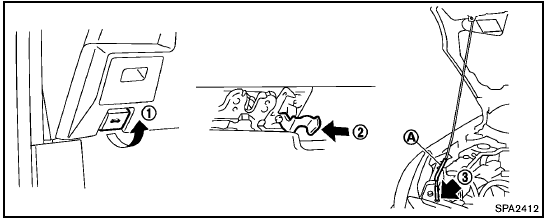 When opening the hood:
1. Pull the hood release handle 1 located below the instrument panel; the hood will then spring up slightly.
2. Pull the lever 2 up at the front of the hood with your fingertips.
3. Raise the hood.
4. Remove the support rod from the hood and insert it into the slot 3 .
Hold the coated part A when removing or resetting the support rod. Avoid direct contact with the metal parts, as they may be hot immediately after the engine has been stopped.
When closing the hood:
1. Return the support rod to its original position.
2. Slowly move the hood down to latch the lock.
3. Push the hood down to lock the hood securely into place.