Mercedes-Benz GLK-Class: Displaying the range and current fuel consumption
Press the or button on the steering wheel to select the Trip menu.
Press the or button to select current fuel consumption and approximate range.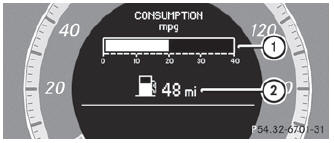 Current fuel consumption
Approximate range
Approximate range 2 is calculated according to current driving style and the amount of fuel in the tank. If there is only a small amount of fuel left in the fuel tank, the display shows a vehicle being refueled
instead of range 2.